Skip To Content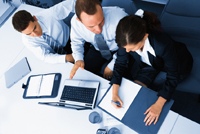 Home »

Corporate Services
Corporate Services
Loss Prevention
Premises Liability Analysis - A detailed review of forseeability of a crime occurring on the property based on a statistical analysis of property and neighborhood crime data. Reasonable cost-effective security measures are developed to reduce the opportunity for crime and the protection of employees, visitors and guests.
Physical Security Surveys - A review of existing physical security measures to determine their adequacy and sufficiency. Measures include physical barriers such as fences, gates, and locks; pedestrian and vehicular control devices and procedures; CCTV systems; and personnel access control.
Crime Prevention Reviews - A review of internal measures designed to protect assets and personnel, such as workplace violence prevention policies, termination policies, recruiting and employment practices.
Security Training Programs - Providing security and crime prevention training for employees based on the unique organizational requirements.
Legal Assistance Services
Civil and Criminal Investigations - Conducting internal and external investigations to identify legal liability and incident causes in furtherance of the organization's crime prevention and suppression objectives.
Process Service - Serving legal documents such as complaints and summons and subpoenas for attorneys and other parties.
Expert Witness - Premises Liability - Providing expert witness services to plaintiff and defense attorneys in matters of negligent or inadequate security.
Witness Location - Locating witnesses and other individuals in connection with litigation and other legitimate business purposes through data base research and personal interviews.
Management Services
Employee Background Investigations - Verification of applicant information to determine initial and continuing employment qualifications.
Employee Misconduct Inquiries - Conduct inquiries to identify non-criminal violations of company policies and procedures.
Copyright © 2011 Blake & Associates, Inc. All Rights Reserved.